Advisory Board
The team is supported by an advisory board of very eloquent individuals:
Prof. Pieter van Vollenhoven
Mr Pieter van Vollenhoven is a Professor of Risk Management at the University of Twente and former chairman of the Dutch Safety Board (Onderzoeksraad voor Veiligheid). Amongst many other functions Professor Pieter van Vollenhoven is currently chairman of the Dutch Victim Support Fund (Fonds Slachtofferhulp) and the Dutch Foundation for Society, Safety and Police (Stichting Maatschappij, Veiligheid en Politie).
Vice Admiral Matthieu Borsboom enjoys a long career in the Royal Dutch Navy and Army.
He has not only served on several minesweepers, armed frigates as well as frigates for air defense, but has joined the UN Operation to Support Democracy in Haiti, as well as served in Afghanistan in the ISAF mission as an Deputy Chief of Staff Stability. As of January 2010 he has taken over the Naval Command.
Air force General (retd.) Dick L. Berlijn was appointed Chief of Defence Staff (CDS) in 2004. In 2005 this function changed to Commander of Dutch Armed Forces (also CDS), now the highest position in the Dutch armed forces. General Berlijn is currently Senior Board Advisor at Deloitte. He is also related to Thales Nederland, Royal Ten Cate, Rekkof Aviation, Red Cross Nederland, National Parc "De Hoge Veluwe" and other organizations.
Mr Boris Dittrich, Advocacy Director minorities rights of Human Rights Watch New-York. From 1994 till 2006 he was a member of Dutch parliament.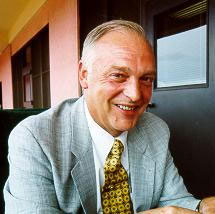 Major General (retired) of the Royal Netherlands Marines Corps Mr Franklin van Kappen, Senator, former military advisor of the Secretary General of the United Nations. At the moment advisor to NAVO and The Hague Center for Strategic Studies.
Mr Frits J. Barend, Sports Journalist on Dutch television & radio, columnist & rapporteur.
Mr Ton-Jan van Osnabrugge, regional director of ABN-AMRO bank, being the largest commercial bank in The Netherlands.
Bouwe Bekking is of Dutch origin and is a professional sailor, who currently lives with his family in Gilleleje, Denmark.He participated in 6 round the world races, now known as the Volvo Ocean Race, of which the last one in 2008/2009 as skipper of Telefonica Blue, 3rd place overall. Among his long list of sailing achievements he became 4 times World Champion. For many years he sailed for the King of Spain and currently for the Prince of Denmark.
Karin Bloemen is Dutch comedian, actress and singer, she has given many concerts, with amongst others the violinists Liza Ferschtman and Janine Jansen. Her latest show from 2011 is called Absobloodylutely Bloemiliciously Fanf*ckintastic. In 2011 she was knighted in the order of Officer of Oranje-Nassau
The advisory board promotes the projects of the team in accordance with the spirit and the goals which are set out by the team. The advisory board also consults the team about future projects.